2019 ASDC Conference June 27 - 29, 2019
Don't miss the 2019 ASDC Conference hosted by the Delaware School for the Deaf in Newark, Delaware!
Become a 2019 Conference Sponsor today!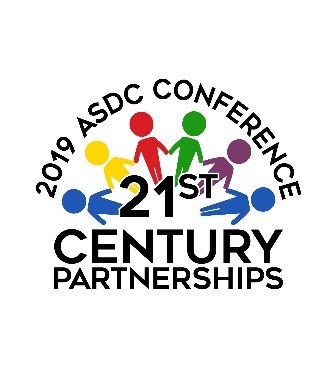 2019 ASDC Conference
The 2019 ASDC Conference theme, 21st Century Partnerships, recognizes the strides made in deaf education, technology, and research during the last 15-20 years and the importance of a team approach.  Families, education professionals, researchers, medical professionals, and community service organizations – all working together in innovative partnerships – will ensure that the 21st century is full of opportunities and possibilities for each and every deaf child.
The conference begins with registration and a welcome gathering on Thursday, June 27, 2019 and continues through Saturday evening, June 29, 2019 providing workshops and presentations for all.  A children's program will be available for children 1-14 years of age.
Registration is now available for the 2019 ASDC Conference.  This year's conference is expected to sell out very quickly.  With family friendly, informative workshops and presentations, attendees will leave the conference with a renewed sense of confidence to help their deaf child.  Don't miss out on early bird pricing, Click here to register.
Interested in becoming a sponsor of the 2019 ASDC Conference, click here for more information.
ASDC is currently seeking presenters for the conference.  If you are interested in presenting a family-friendly, informative and hands-on workshop, click here to submit your application.  The deadline to submit an application is January 18, 2019.  Notification of acceptance will be no later than February 15, 2019.  Presentation submission form is available by clicking here and should be emailed to karen.martin@christina.k12.de.us
The 2019 Conference is being hosted by the Delaware School for the Deaf.
Roy Holcomb Distinguished Lecturer
The 2019 Roy Holcomb Distinguished Lecturer will be announced soon.