Raise Your Hands and Voices: Sign Up & Speak Out
Girls, just because you are young and can't vote, doesn't mean you can't create powerful change in your communities! Join us for this action-packed advocacy empowerment webinar where you will learn how to effectively advocate and raise awareness for causes you feel passionate about. 
When: April 20 @ 3:30 pm (Pacific Time)
Who: Girls aged 10-17 in the Deaf and Hard of Hearing community nationwide
Cost: Free, but donations are accepted
Host: Grassroots Girls, an organization that empowers young girls to advocate for healthier lives, stronger communities, and a sustainable planet.
Sponsor: Nevada Hands & Voices
ASL interpreter and transcription services provided.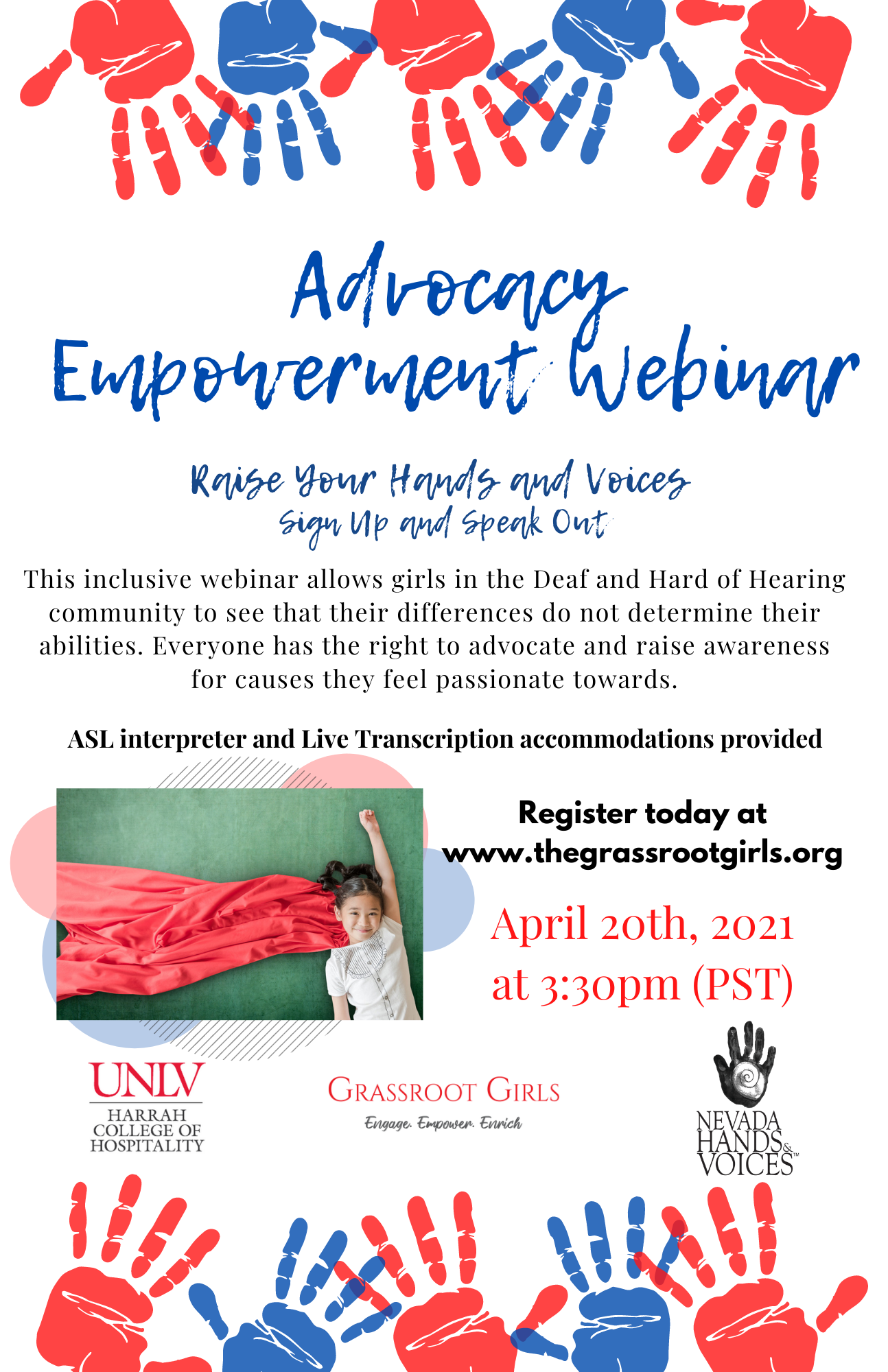 Presenters include:
Karen Putz,  AKA "The Passion Mentor"– Karen was born with normal hearing, grew up hard of hearing and became deaf from a fall while barefoot water skiing.  She's the author of multiple books and will be providing tips to the webinar attendees on how to find their passions as it relates to advocacy. 
Assemblywoman Selena Torres, 3rd District, Nevada State Assembly- An educator at heart, Assemblywoman Torres created Cesar Chavez Day in Las Vegas which supports a scholarship fund allowing kids opportunities to pursue higher education.  As an assemblywoman, she Ms. Torres serves as Vice Chair of  Government Affairs and serves on the Education and Legislative Operations and Elections committees and is currently chair of the Nevada Hispanic Caucus. 
Megan Dwyer– Miss Dwyer holds lots of well earned titles:  Miss Outstanding Teen, Honor Student , Team Captain for Relay for Life, Student of the Year Candidate for The Leukemia & Lymphoma Society, and Northern Nevada Youth Leader for the American Cancer Society Cancer Action Network.  While advocating for those impacted by childhood cancer, she has also earned the bronze Governor Points of Light Award for Individual Youth Volunteer and the Elko Chamber of Commerce Youth Volunteer of the Year award.