When you shop with the American Society for Deaf Children, you're not just making a purchase; you're igniting a spark of enthusiasm and supporting a remarkable mission. Get ready to show your ASL Pride and be a part of something truly special!
At ASDC, we wholeheartedly believe that every deaf child should have the opportunity to learn sign language right from the start. It's not just a belief; it's a passionate commitment to ensuring full communication access for these amazing children. Our dedication to this cause is unwavering.
Our journey begins from day one, with a clear focus on facts and a deep-rooted desire to provide deaf children with the communication opportunities they deserve. We're all about teamwork, collaboration, and informed decisions. Together, we work tirelessly to create learning experiences that are nothing short of successful. Our goal is crystal clear: to tailor plans and programs to meet the unique needs of each child, individually and collectively.
From our vibrant Spirit Shirts to shopping on Amazon.com, becoming an ASDC member, or any way you choose to support our mission, your contribution is more than just a dollar; it's a lifeline. Your generosity helps us provide deaf and hard-of-hearing children and their families with the resources they need to connect, communicate, learn, thrive, and succeed.
Thank you from the bottom of our hearts for choosing to shop with us. Your support makes a real difference in the lives of these incredible children and their families. Together, we're creating a brighter future, one purchase at a time!
We Love Winter! Sharing the Season's Spirit with ASDC's 2023 Holiday Cards
Embrace the spirit of the season and make a difference with your holiday cards! By ordering today, you're sending warm wishes to your loved ones and extending your hand in support of ASDC's crucial mission. We're dedicated to fostering language and literacy equity and diversity for ALL children, and your contribution matters.
Whether you need 1, 10, 30, or 50 cards, we've got you covered. So, why wait? Spread the holiday cheer and #GiveASL this winter season alongside us. Your kindness and generosity will surely brighten this festive time!
Learn more about our 2023 Holiday Card Art Contest Winners > 
"The Light Within"
Artist: Braylin B  •  Grade 10
West Virginia School for the Deaf and Blind
In this heartwarming narrative, Braylin, a gifted Deaf artist in the 10th grade, wove a masterpiece that skillfully captures the tranquil allure of a winter evening stroll. As we admire Braylin's artwork, we can feel the warmth of a friendly snowman's company and the comforting glow of light guiding the way back home.
"Winter Serenity"
Artist: Joycelin O • Grade 10
Lexington School for the Deaf
Joycelin is an incredibly talented 15-year-old Deaf artist. Her creation skillfully encapsulates the serene and enchanting essence of a winter evening. Through her depiction of falling snow and the sheer delight of building snowmen, Joycelin has transported us into the heartwarming embrace of the season. Her work radiates a sense of tranquility and pure joy that makes us feel winter's magic.
Kindly be aware that purchasing single cards will lead to increased shipping expenses in contrast to purchasing in quantities of 10 or more. We strongly advise placing orders in larger quantities to benefit from lowered shipping costs per unit. This decision will result in more cost-effective shipping rates and contribute to overall savings on your purchase. We appreciate your understanding of this recommendation, your commitment to optimizing shipping costs through bulk orders, and your steadfast support of the American Society for Deaf Children.
For any inquiries or concerns, please don't hesitate to seek assistance by reaching out to Wendy at wendy@deafchildren.org.

 

Thank you.
Show your ASDC Spirit and support ASL Pride all year long!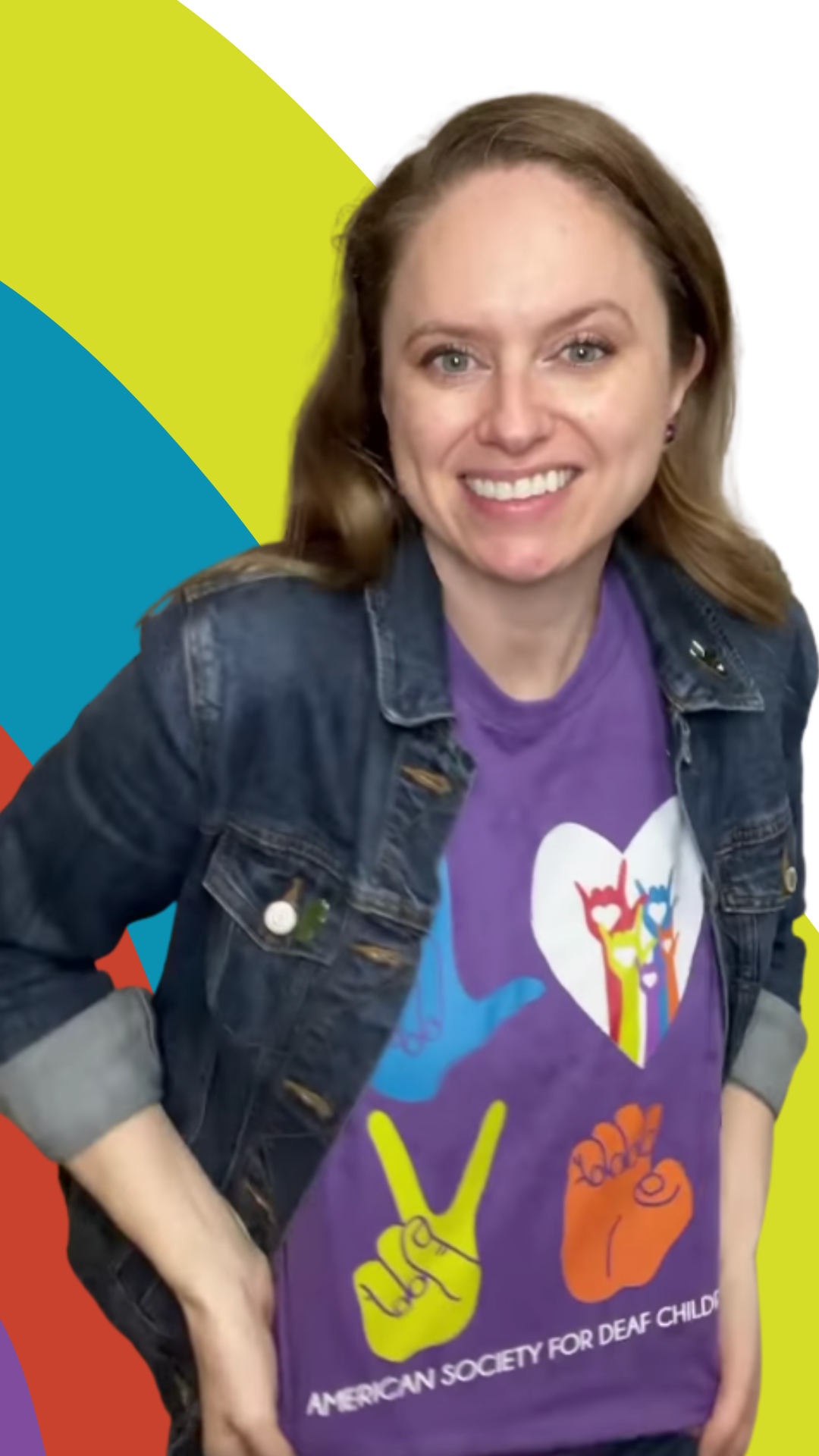 Get ready to ignite your ASL pride and make a real impact in the lives of deaf and hard-of-hearing children! The American Society for Deaf Children Spirit Shirts are here to spread positivity, unity, and inclusivity in our community.
Whether you're a parent, a teacher, or a member of our incredible community, it's time to show your support in style. Our Spirit Shirts are not just any shirts; they're a symbol of love, encouragement, and a promise of a brighter future.
But why stop at one season when you can have them all? From sunny summer vibes to cozy winter warmth, we've designed a shirt for every occasion. You can pick your favorite holiday, collect them all, and fill your wardrobe with ASL pride.
Wearing these fun and colorful shirts is more than just a fashion statement; it's a statement of support for the mission and vision of ASDC. Your purchase helps us create equal access to language and literacy development for EVERY CHILD. Let's join hands, wear our hearts on our sleeves, and make a difference together. Your enthusiasm and generosity will go a long way in changing lives and spreading the joy of communication. So, why wait? Get your Spirit Shirt now, and let's light up the world with ASL pride!
About the shirt:
Wear your shirt to show your pride for the American Society for Deaf Children and ASL
Great for children, students, teachers, parents, grandparents, and ASDC members
Several styles and fabric options are available in youth and adult sizes
About the online merchandise store:
Orders are delivered quickly!
Proceeds benefit the mission of the American Society for Deaf Children
Introducing the latest addition to the ASDC Spirit Shirt Collection!
Get ready to embrace the magic of the season with ASDC's delightful 'Let It Snow' T-shirt!
Celebrate the most wonderful time of the year in style and spread the joy of winter with this adorable and charming design. This tee has been crafted with comfort and cheer in mind, making it a perfect addition to your festive wardrobe. Let the snowflakes fall, and your spirit soar with this heartwarming shirt that echoes the joy of the holiday season.
Share the joy of ASL with this adorable shirt and make a stylish and inclusive statement.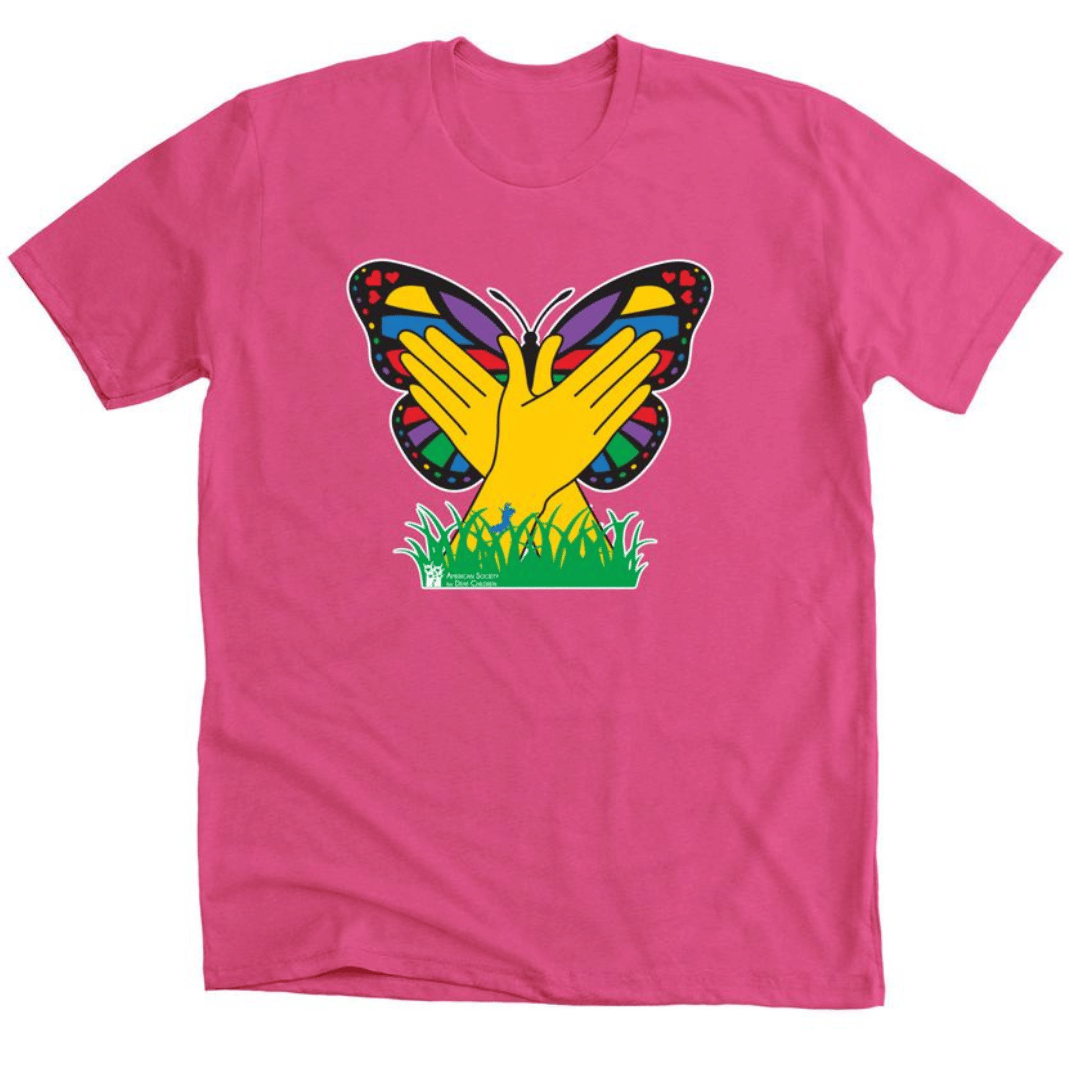 Embrace the spirit of the butterfly with ASDC's Butterfly T-Shirt! It's your ticket to adding a splash of vibrant color to your world and dancing to the rhythm of joy through ASL. 🦋💃🌈 Let your inner butterfly take flight!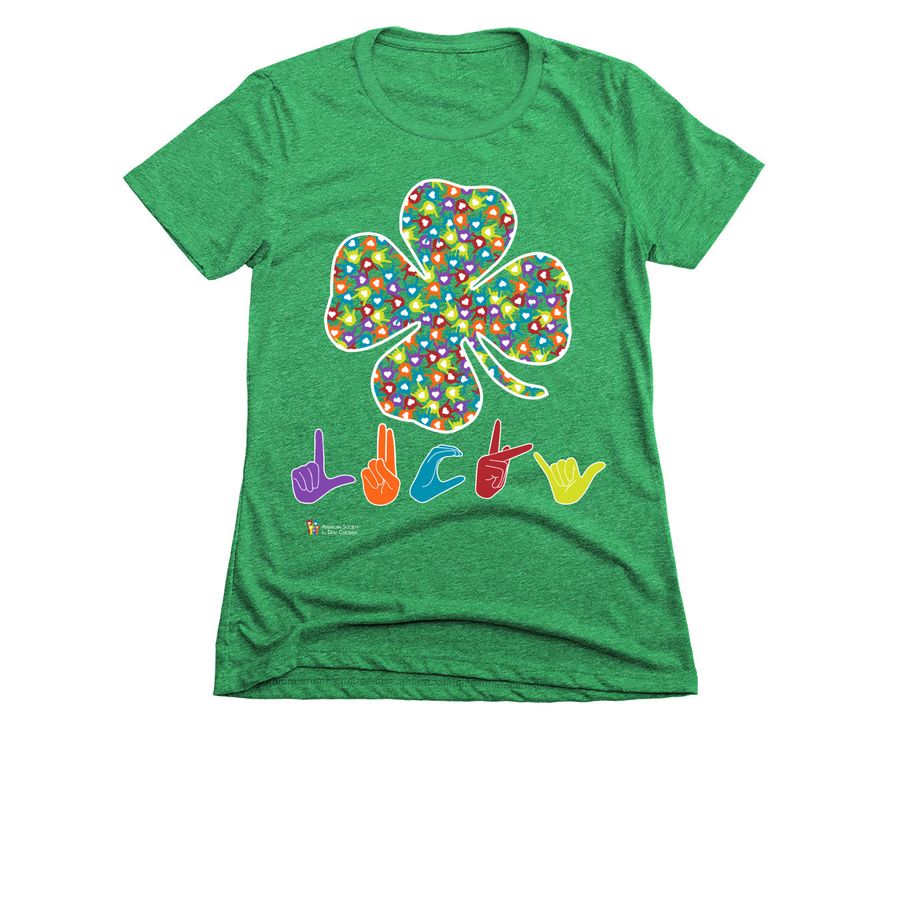 Get LUCKY with ASDC!
The weather may be roaring like a lion right now, but take heart because spring, rainbows, and gentle, lamb-like weather are just around the corner. And to make it even luckier, we've got a pretty darn LUCKY shirt waiting for you! 🌦️🌈🍀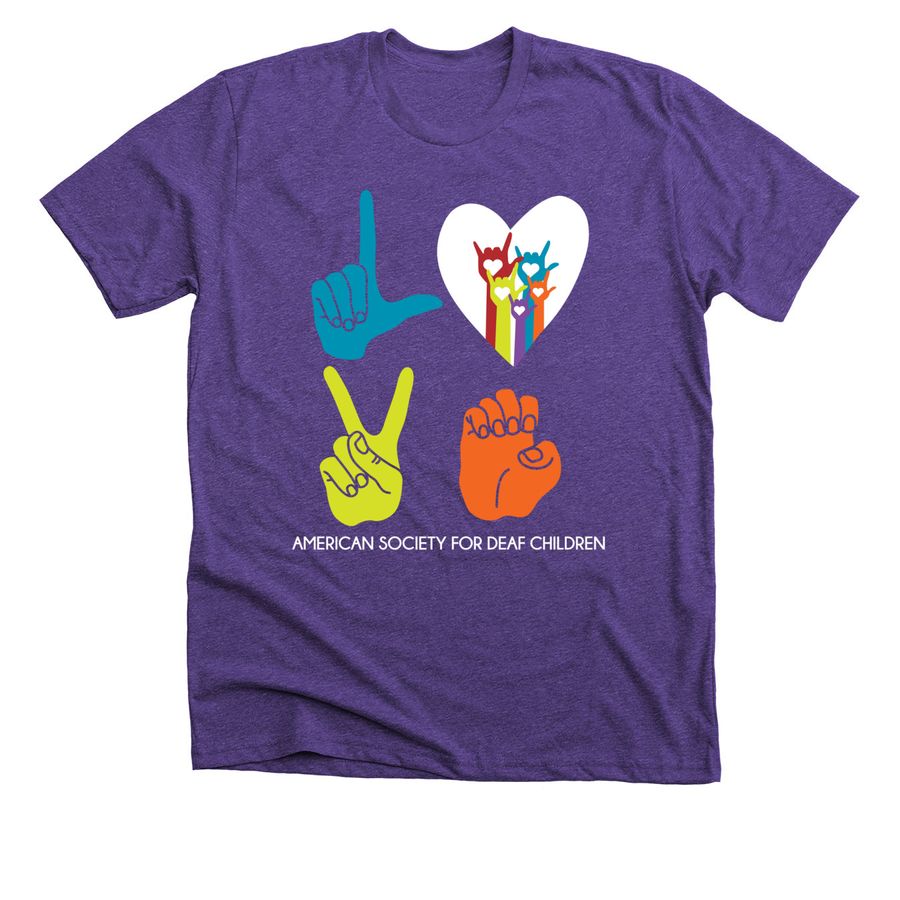 Share your LOVE for ASL!
Love is in the air, and it's time to wrap yourself in those warm and fuzzy feelings! ASDC's LOVE shirt is the perfect way to let the world know just how deeply you care. 💖🌟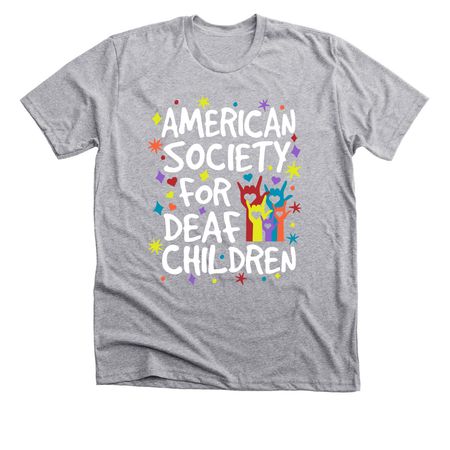 We've got SPIRIT, how about YOU?
ASDC's Spirit Shirt is the ideal choice to proudly showcase your unwavering commitment to language accessibility for EACH and EVERY deaf child! Don't stop at just one – grab one for yourself and several for every member of your family. Let's wear our dedication on our sleeves and make a powerful statement together! 💪👕🌟
Delta Zeta's love for ASDC knows no bounds! Since 2020, Delta Zeta has been a dedicated and generous supporter of the American Society for Deaf Children. And now, we're thrilled to introduce this exclusive limited edition t-shirt, designed with the Delta Zeta spirit in mind. Best of all, every dollar raised from this special t-shirt will go directly toward benefiting ASDC's mission. Join us in making a difference and wearing your support with pride! 🤝💙👕
Share the ♥ !
We're eager to see the ASDC Spirit Shirts making their mark all around the world! Put on your shirt(s) and showcase your ASDC and ASL pride in style.
Take a snap of yourself flaunting your Spirit Shirt and share it with us. Email your photo to cheri@deafchildren.org, and who knows, you might find yourself featured on our social media channels with a special shoutout!
Your ASL pride deserves to be celebrated, and your support means the world to us. So, let's go ahead, strike a pose, and let your spirit shine! Show us where you're proudly sporting your ASDC Spirit Shirt, and let's spread the love for ASL and our community far and wide! 📸🌎💙
More styles and designs are coming soon!
#GiveASL
Did you know that you have the power to spread the gift of communication and community? It's true! You can give the incredible gift of an ASDC membership, ASL Weekend, or Family Conference registration to a family member or friend.
What better way to #GiveASL than by opening doors to a world of opportunities and connections for your loved ones? ASL is a language of unity, inclusivity, and understanding; your gesture can profoundly impact someone's life.
So, why wait? Be a #GiveASL hero and share the joy of communication with those you care about. Let's make the world a more connected and inclusive place, one gift at a time!
Learn more by clicking on each option below or email Cheri at cheri@deafchildren.org for more information.