Ready to elevate your fingerspelling, vocabulary, and
ASL conversation abilities?
Join our dynamic 4-week 'Learn ASL' series! We offer courses for beginners, intermediates, and advanced learners, and even specialized youth classes.
Our classes ensure a personalized learning experience with limited spots, guaranteeing individual attention from ASDC's skilled ASL instructors. Secure your spot—early registration is key!
Don't miss this opportunity to enhance your ASL skills—register now and embark on this enriching journey with us!
All classes are held online via Zoom
Please note: Our Beginning and Intermediate Level 1 and Level 2 classes are structured as progressive courses to advance your ASL language proficiency. While Level 1 isn't mandatory for Level 2, it is highly recommended to maximize your learning experience.
Beginning ASL Level 1
Explore basic fundamental American Sign Language (ASL) elements like the alphabet, colors, counting, and additional essentials in this engaging 4-week online course.
This course focuses on fingerspelling, vocabulary expansion, basic conversations, and more. It caters specifically to individuals with minimal to no prior knowledge of ASL.
Interpreter provided.  
REGISTRATION AND
COURSE DETAILS ⇓
Beginning ASL Level 2
Building upon the foundational ASL elements from level one, level two intensifies fingerspelling proficiency, enriches vocabulary, and hones basic conversational skills in a dynamic 4-week online course.
Designed for learners with basic ASL familiarity, this course further instructs on grammar, syntax, and fingerspelling nuances.
Interpreter provided.  
REGISTRATION AND
COURSE DETAILS ⇓
 FEBRUARY BEG. LEVEL TWO – COMING SOON
Intermediate ASL Level 1
Explore nuanced ASL communication in this level one intermediate course, gaining deeper insights to enhance your proficiency and immerse yourself further in the language and culture of ASL.
Tailored for those with basic ASL knowledge, this 4-week course advances your signing skills from beginner to intermediate level one.
Interpreter provided.
REGISTRATION AND
COURSE DETAILS ⇓
Intermediate ASL Level 2
Building on the foundations of Intermediate ASL Level One, our level two course provides a more immersive experience into the nuances of ASL, helping you develop conversational fluency and a deeper understanding of the language.
Designed for individuals who already have a grasp of ASL, this course serves as a stepping stone towards our Advanced ASL course.
Interpreter provided.
REGISTRATION AND
COURSE DETAILS ⇓
FEBRUARY INT. LEVEL TWO – COMING SOON
Advanced ASL
Advance Your ASL Skills: Explore Vocabulary and Conversational Proficiency
Take your ASL skills to the next level with our comprehensive four-week course designed for individuals who are well-versed in American Sign Language. This course will cover advanced vocabulary, conversational nuances, and more. It is an ideal opportunity for experienced signers to challenge themselves and improve their signing proficiency.
Don't miss this chance to enhance your ASL proficiency. Enroll today and take the next stride in your ASL journey!
REGISTRATION AND
COURSE DETAILS ⇓
FEBRUARY ADVANCED ASL – COMING SOON
ASL For Young Children
Unlocking Sign Language for Youth Ages 3-5
Engage your little ones in our monthly interactive ASL course!
Tailored for kids aged 3 to 5, each bite-sized 30-minute session introduces ASL in a fun and interactive way.
Held every first Saturday at 12:00 pm EST, this course is convenient for both kids and parents. Recordings of each session enable practice and review, reinforcing learning. Join the fun!
Interpreter provided.  
REGISTRATION AND
COURSE DETAILS ⇓
WORKSHOPS,
WEBINARS, and
ONLINE EVENTS
Explore our vibrant workshops, webinars, and online events!  ASDC unites DHH mentors, advocates, professionals, and educators each month to share their expertise on diverse topics with our community.
Don't miss out on this valuable resource! Got an idea for a topic or discussion? Email Cheri today!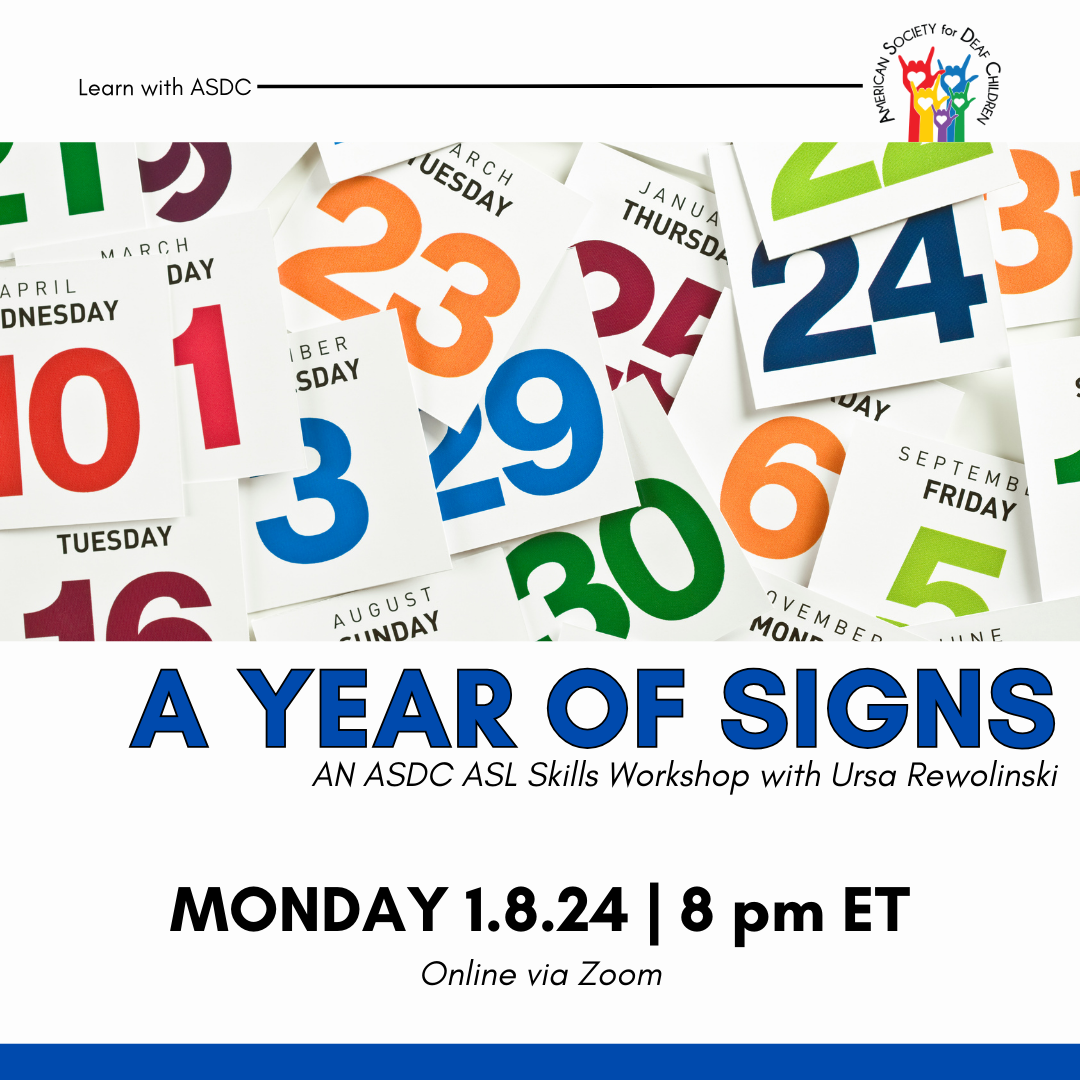 January Workshop: A Year of Signs
FREE for ASDC members*
$25 for Non-Members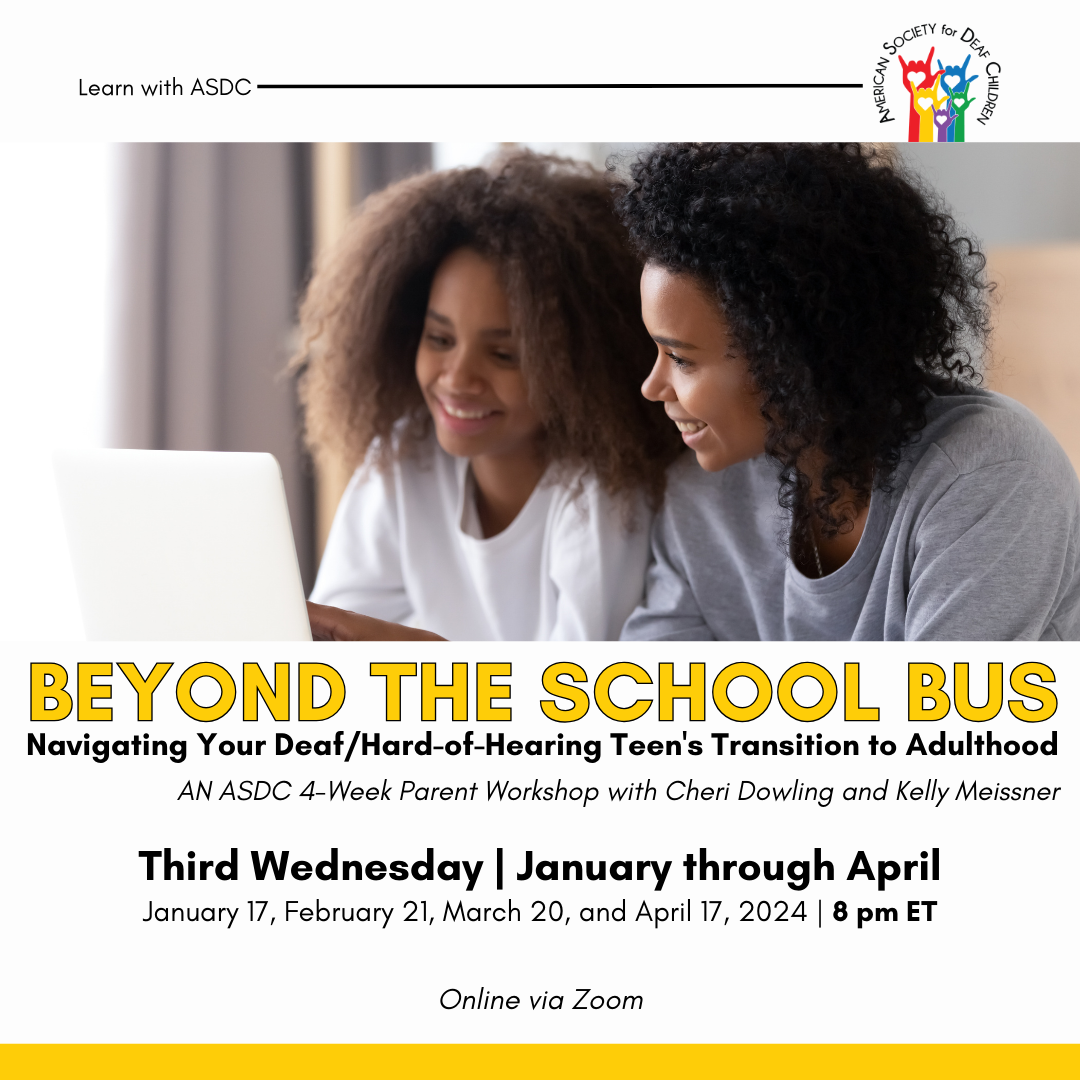 $75 for ASDC Members*
$100 for Non-Members
Are you interested in ASDC's in-person ASL learning events? Join us at our ASL Weekend! Learn more here >>
¿Busca grupos y clases de ASL en español? Visítenos aquí >>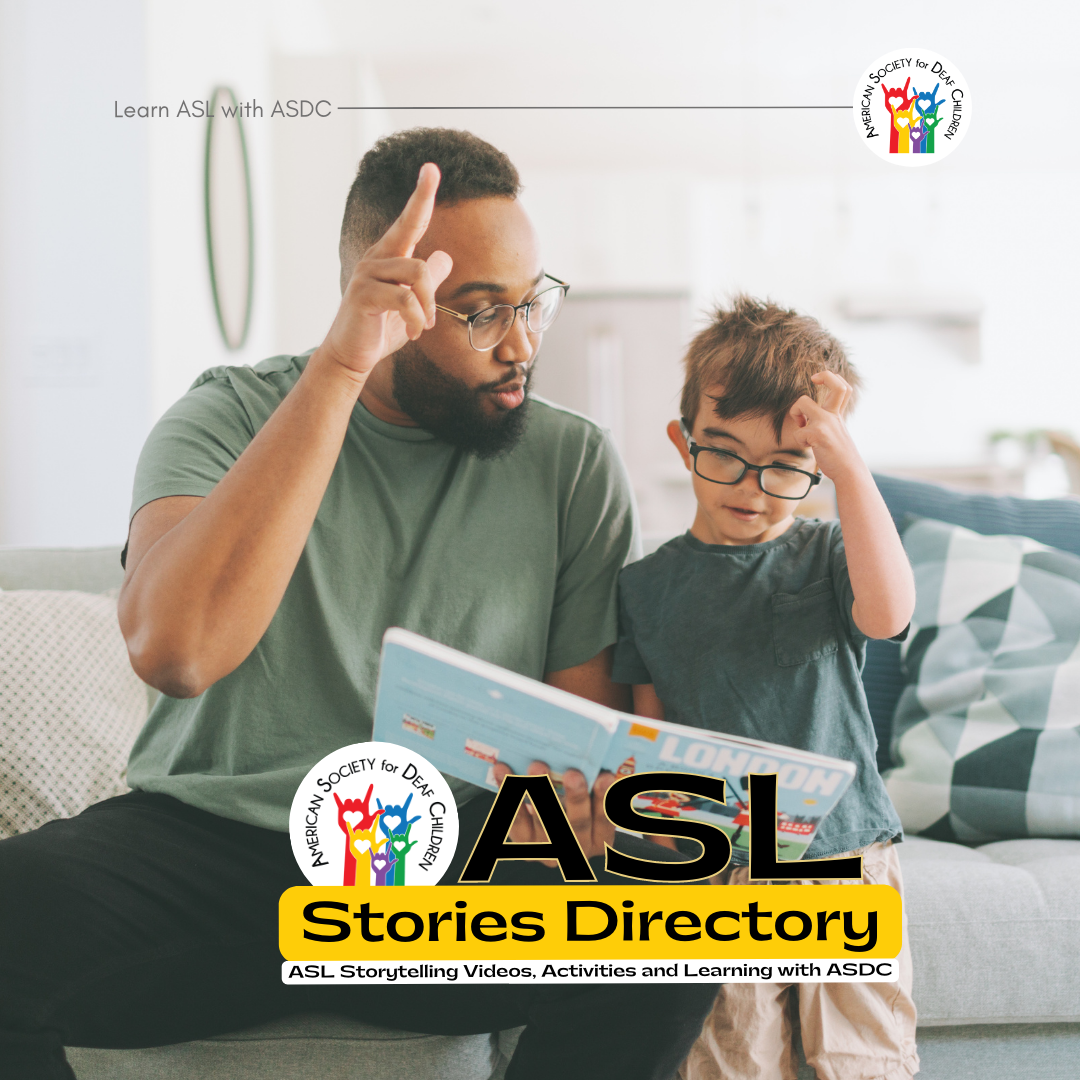 ASL Stories Directory
We've made it easy for you to find hundreds of free videos of ASL retellings of  your child's favorite books. Search for stories by your child's age or by the book's title.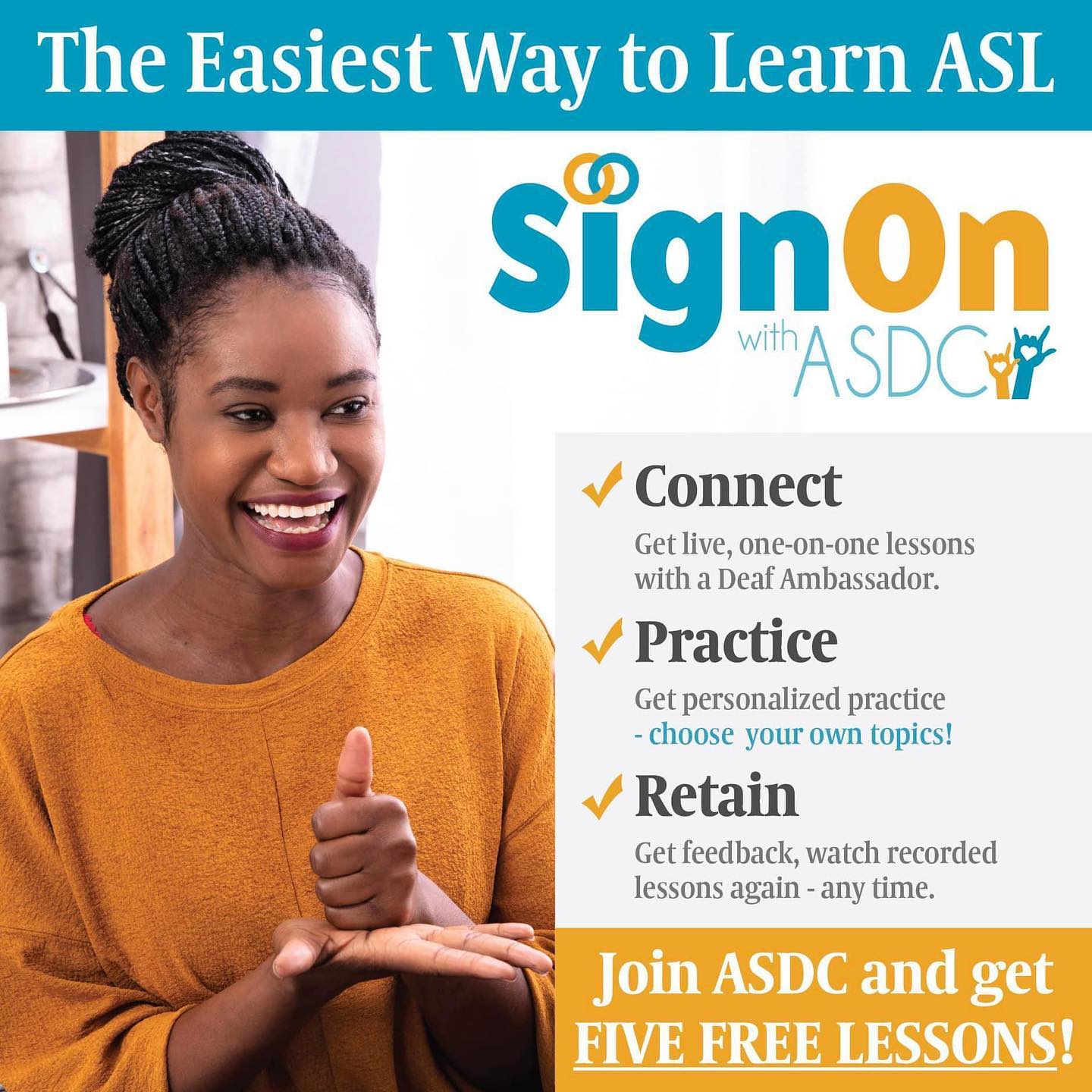 Practice ASL online!
Sign with a Deaf adult in real time and choose your conversation topics. Or your child can join "Friends Like Me" and chat with other deaf and hard of hearing children their age once a week. ASDC members get 5 FREE sessions (a $125 value). Not a member yet? Join ASDC.