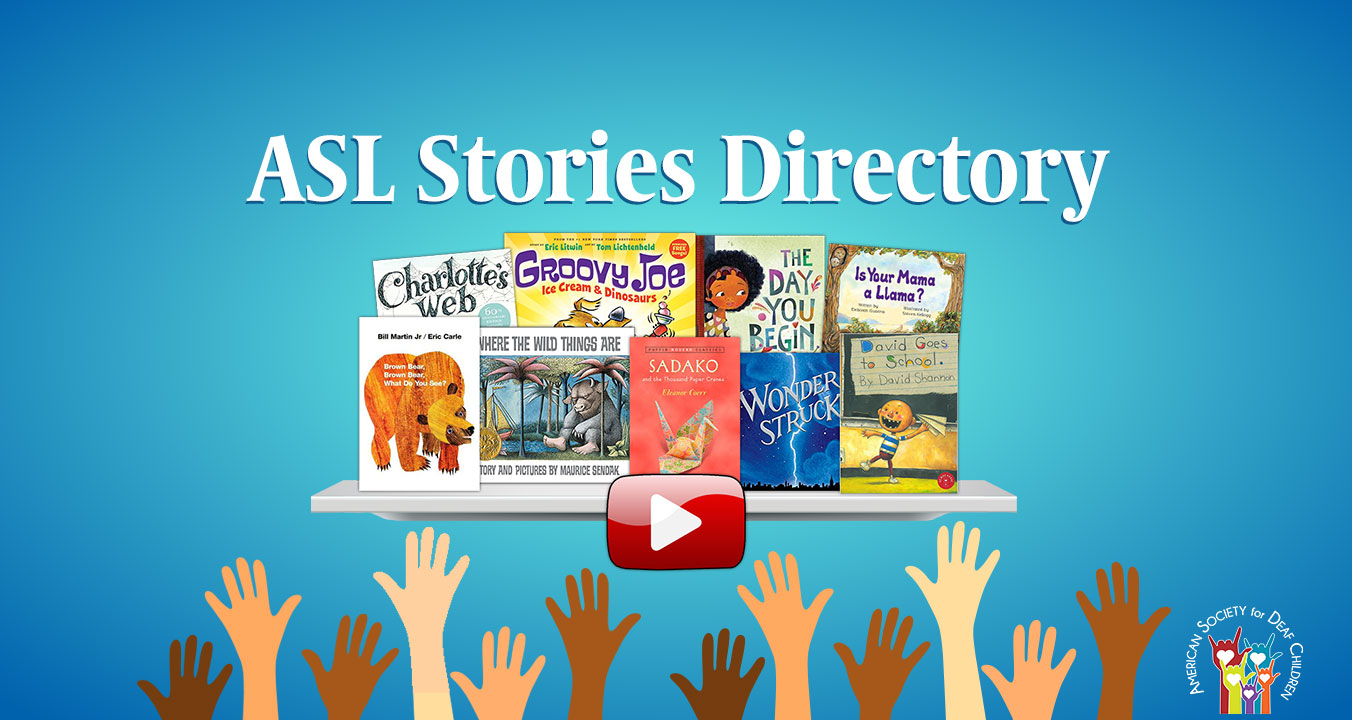 ASL Stories Directory
Updated 3/14/22
This ASL Stories Directory makes it easy for you to find hundreds of free videos of ASL retellings of  your child's favorite books. Research shows that reading and signing stories together helps promote essential literacy skills for ALL children: deaf, hard of hearing, and hearing. Use the ASL Stories Directory to quickly find stories by your child's age or by the book's title. Make the most of signing and reading with your child! Get useful tips here.
Check this page again soon! We are adding more signed stories to the ASL Stories Directory each week. If you have a favorite video that's not listed here, or if you want to add your own video of you and your child signing one of your favorite books, please share it with Cheri at cheri@deafchildren.org. Thank you.
ASL Stories Directory by
AGE
ASL Stories Directory by
HOLIDAY
Blank
Valentine's Day
Books with the themes of love, gratitude, acceptance, and self-esteem.
Blank
St. Patrick's Day
Books about St. Patrick's day and the color green!
ASL Stories Directory by
MONTH/OBSERVANCES
Blank
MLK Day / Black History Month
Books about Martin Luther King, Jr.
Books about Black history and stories featuring African American characters
Blank
Deaf Women's History Month (March)
Under construction – come  back soon!
Blank
Deaf History Month (April)
Under Construction! Come back soon!
Blank
ASL Day (April 15)
Under Construction! Come back soon!
Blank
Mental Health Awareness Month (May)
Under Construction! Come back soon!
Blank
Asian-American Pacific Islander (AAPI) Heritage Month (May)
Asian/Pacific American Heritage Month is celebrated annually in May in the United States to highlight the history, heritage and contributions of Asian Pacific American communities.  Asian-Americans and Pacific Islander Americans (AAPI) play a large role in the history of the United States. Contributing to stronger societies as individuals and as a group, their ancestry tracks back to continental Asia (the Middle East, East Asia and Southeast Asia) and the Pacific Islands (Melanesia, Micronesia and Polynesia) in the United States. The contributions of the AAPI community are vast, from art to infrastructure to politics, and much more.    
Asian and Pacific Islanders (APIs) have played an important role in U.S. history, which we want to celebrate! Learn more at these websites:
There are also many online API Deaf/HH  communities that provide helpful insight and support.  We encourage you to find one that works best for you.
______________
Below, we share some fun ASL Storysigning Videos from API authors and illustrators.  Take a look!
AAPI Heritage Month ASL Storysigning Videos
Here's a few API StorySigning videos to share with your families and students. Be sure to stop by our ASL Stories Directory for more stories and videos from (and about) API's and other cultures!
Blank
Pride Month (June)
Under Construction! Come back soon!
ASL Stories Directory by
TITLE
Note: When a story is listed twice (or even three times) in the ASL Story Directory, it means that we are linking out to videos of different people telling the same story. Watch each one and compare them! There are so many fun ways to tell the same story in ASL.
If you enjoy using the ASL Stories Directory, please consider donating or joining ASDC. See our Impact Report to learn more about how we're bringing families together through American Sign Language.