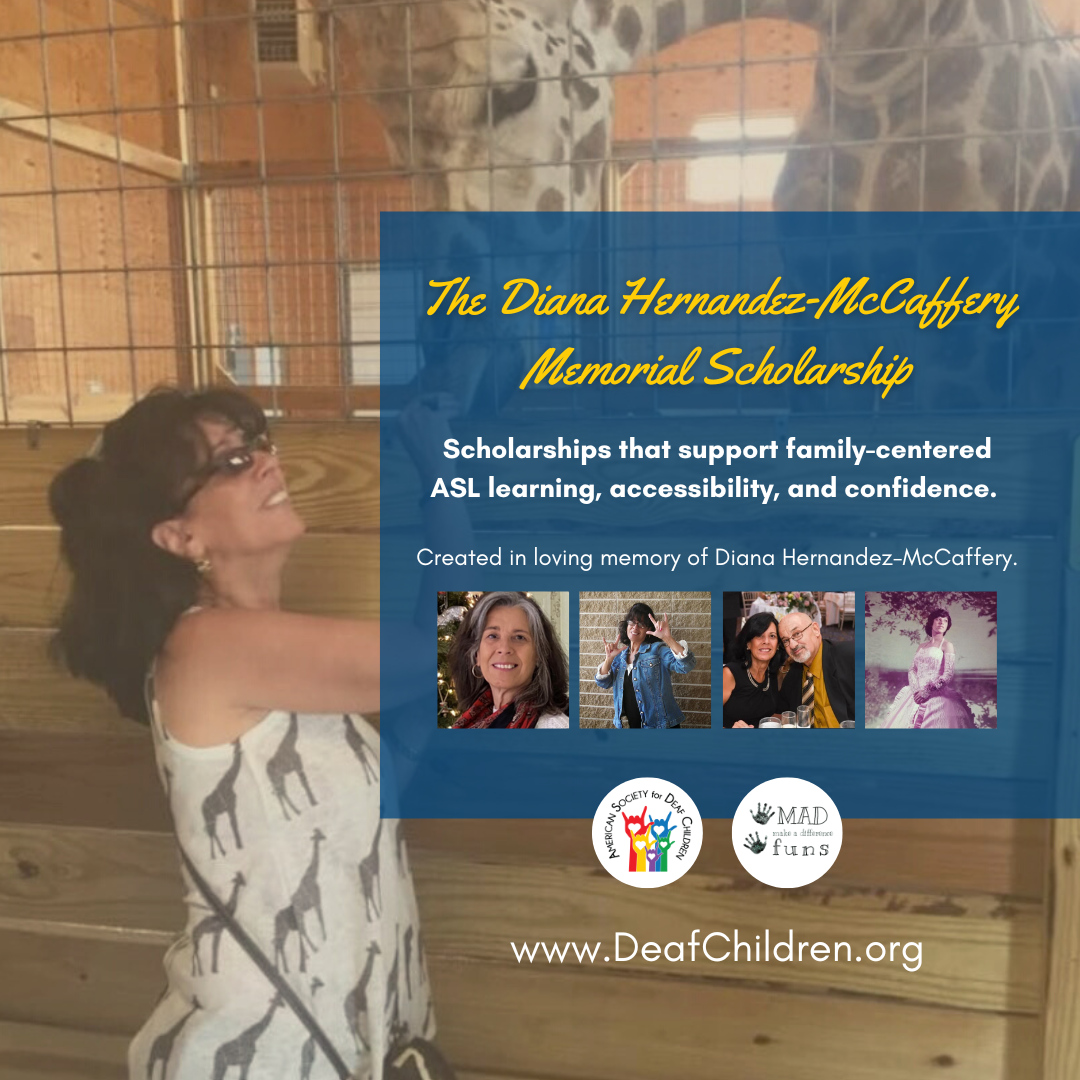 This memorial scholarship was inspired by Diana Hernandez-McCaffery, with the hopes of helping families in the deaf community. Diana was a proud Deaf Cuban-American. She was the founder of the South Jersey Deaf Club, and was president of the club for nearly a decade. The club held Deaf social gatherings monthly and coordinated trips to fun places all over New Jersey.
Born in Florida, Cuba in the Camagüey Province, Diana came to the United States at the age of 2 with her family and settled in Newark, NJ. She loved growing up in Paramus, NJ, sharing her childhood home with her three sisters and parents. Twenty-six years ago, she moved to Brick Township in New Jersey with her husband and two children. She was excited to be a grandmother to her first grandson.
She attended the Marie H. Katzenbach School for the Deaf which held many of her best memories and is also where she was introduced to Deaf culture and ASL. She served on the Katzenbach 40th Reunion Committee, where she was able to showcase her love for the school. Diana was also an American Sign Language mentor to many students who were in local interpreter training programs (ITPs). In her personal life, she LOVED collecting anything "giraffe," and enjoyed crafting and knitting. Above all, being a wife and mother were her most precious roles. Her two children, who are both proud children of deaf adults (CODAs) work in their hometown. Her son is now a police officer, and her daughter is an ASL teacher. Both hope to continue their mother's legacy of sign by staying committed to working with the community throughout their careers.
Diana loved her deaf dog, Rousey. She made the world a better place every day with her smile and laughter. The impact she made is still felt in the hearts of many.
About the Scholarship
ASDC + MADFuns created this scholarship to help reach more families and allow more parents to be able to communicate with their children, free of cost. The hope of this scholarship it to allow parents to communicate with their children, and help make them feel more comfortable and confident doing so. 
Currently, this new scholarship is set up to help three (3) recipients annually and will focus on the following areas:
ASL Weekends (one family or two single recipients)
Each year, ASDC will choose a family (or two single recipients) who lives in New Jersey to receive this special scholarship. It covers the cost of $250 per person (two persons each year) to attend an ASL weekend of learning and practice. (recipients must live in New Jersey to receive this award)
Learn more about ASL Weekends
Annual ASDC Conference (one recipient)
Each year, ASDC hosts an Annual Conference held in various locations around the United States. In 2023, the ASDC Conference will be held July 13-15, 2023 at the Great Wolf Lodge in Williamsburg, VA
ASDC will choose one recipient to attend the 2023 Conference – this award will cover the entire $500 conference fee.
The 2023 ASDC Conference offers plenaries and activities accompanied by ASL Language Models to teach families how to use ASL in the community.
Learn more about the 2023 Annual Conference
Applying for the
Diana Hernandez-McCaffery Scholarship
To be considered for the Diana Hernandez-McCaffery Scholarship, please fill out the contact form or send an email to ASDC Executive Director, Cheri Dowling at cheri@deafchildren.org.
Please indicate which award you are applying for, ASL Weekends or ASDC Conference, and how you feel this award will impact you and your family.
Donate to the Diana Hernandez-McCaffery Scholarship Fund
ASDC + MADFuns' goal for this scholarship fund is to create more awareness and receive donations that will allow us to choose up to 15 recipients per year. That would be the equivalent of $5,000 annually if the goal is reached! The impact on these families and/or individuals would be amazing, and something Diana would be so proud of!
If you would like to donate to the scholarship fund and help us provide more opportunities for families to learn ASL, please click on the "donate" button below. In the "Is your donation in honor of someone special?" blank, please be sure to type in " Diana Hernandez-McCaffery " to ensure the amount is added directly to the scholarship fund.