Today is World Giraffe Day. We celebrate the longest-necked animal on the longest day of the year on June 21st every year. Learn a bit about giraffes with Ashley!
Today we also celebrate the life of Diana Hernandez-McCaffery. Diana was a proud Deaf Cuban-American. She attended the Marie H. Katzenbach-New Jersey's School for the Deaf, which held many of her best memories and is also where she was introduced to Deaf culture and ASL. And she loved giraffes so much!
ASDC + MADFuns created this scholarship to help reach more families and allow more parents to communicate with their children, free of cost. This scholarship hopes to enable parents to communicate with their children and help make them feel more comfortable and confident. The impact on these families and individuals would be amazing and something Diana would be so proud of!
Donate to The Diana Hernandez-McCaffery Memorial Scholarship Fund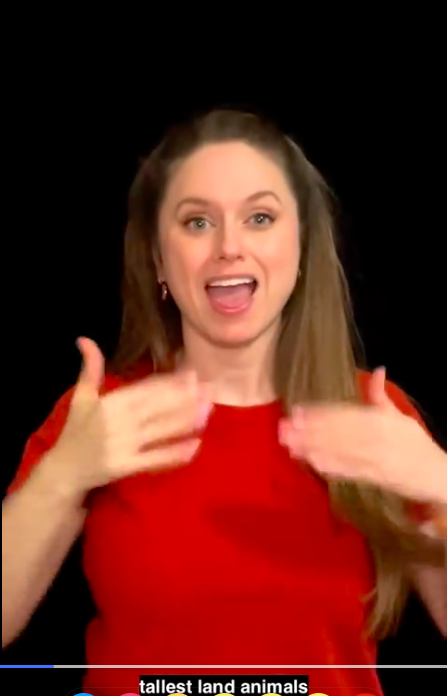 [Video description: ASDC logo, World Giraffe Day intro. A woman, Ashley, with long hair down and a tee shirt. She signs with a few graphics of giraffes and their coat patterns. Near the end of the video is a memorial slide for Diana with a photo of her and silhouettes of giraffes. At the end of the video is the ASDC logo of 5 multicolored hands in "ILY" hand shape with "American Society for Deaf Children" arched over the top. Below is a logo of MadFuns with child handprints on the side.]