SignOn with ASDC
Practice ASL online in real time with Deaf adults
Practice ASL with a Deaf adult – FREE
Are you raising a deaf child?
Are you learning ASL? 
Are you a member of ASDC?

*
If you answered YES to these questions, you are eligible for five 30-minute sessions of SignOn FREE (a $125 value), courtesy of the American Society for Deaf Children (ASDC).
*Membership is open to all! Join here.
What is SignOn?
SignOn is a virtual immersion program that lets you practice your ASL live with a Deaf adult from the comfort of your own computer.
Get one-on-one practice and personalized feedback
Choose your own topics, personalized to your needs and skill
Enjoy flexible scheduling – sessions available 7 days a week
Watch your video sessions again any time to review
Start right away with an easy-to-use platform
Why SignOn?
ASDC recognizes the importance of Deaf adult role models in the lives of families raising deaf children. Fewer than 25 Deaf Mentor programs currently exist to serve families in the United States.
Considering that one in one-thousand babies are born deaf, and 92% of those babies are born to hearing parents, most hearing families do not experience what we see as crucial interactions with Deaf adults. SignOn is bridging that gap and using technology to reach beyond traditional Deaf mentoring methods.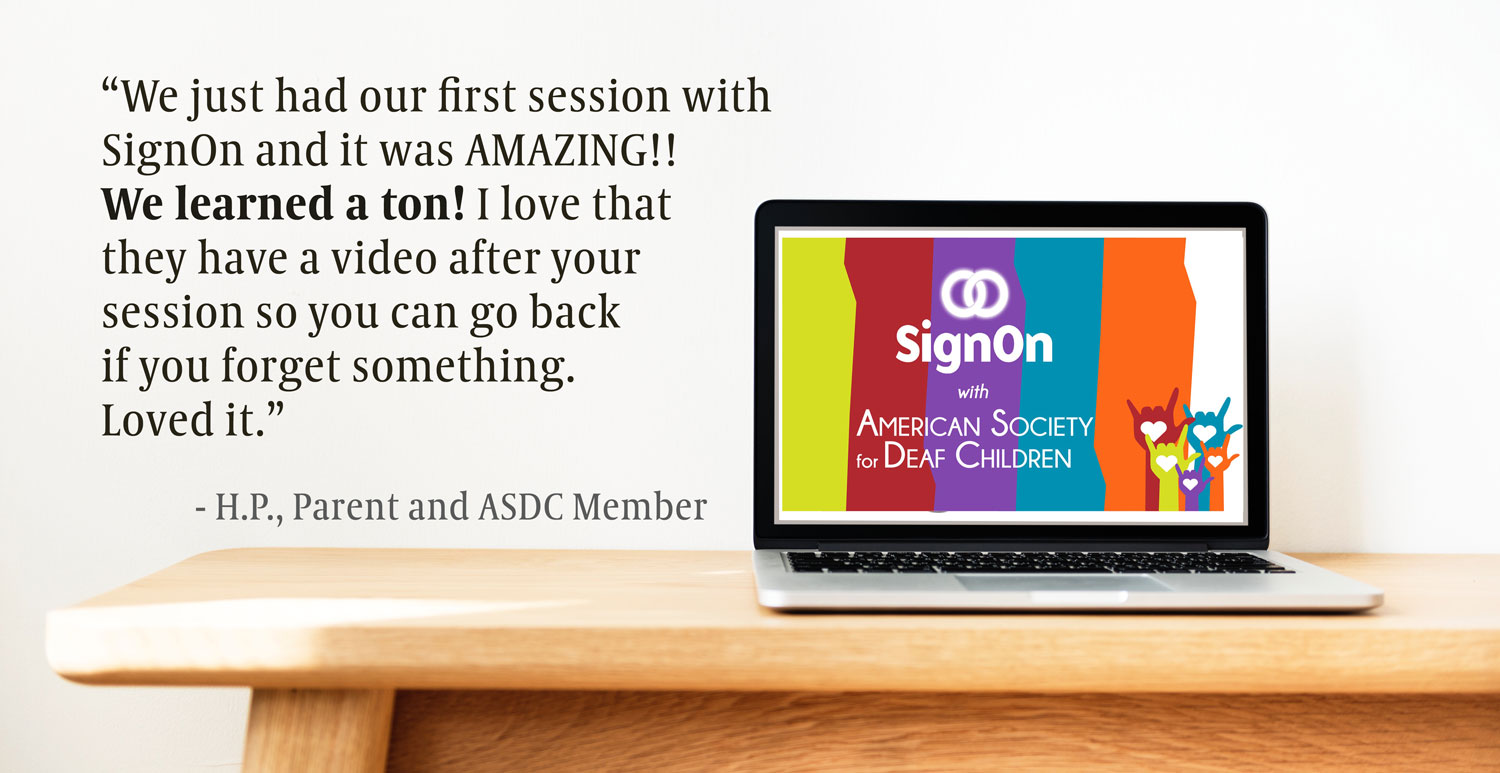 Start Today
ASDC is offering five, 30-minute SignOn sessions (a $125 value) to the first 500 ASDC Member Families who request codes.
Already a member?
Fill out the form below to get your code.

Not a member yet?
Membership is open to all and is just $35 a year.
Join here and then return to this page to request your code.