🎨🌟ASDC is thrilled to reveal the talented winners of our 2023 Holiday Card Art Contest! 🌟🎨
We extended an invitation to Deaf and Hard-of-Hearing youth around the country, aged up to 18, encouraging them to be the creative force behind our annual holiday cards, and to breathe life into the enchanting theme of "We Love Winter." Their response was nothing short of amazing!
Choosing our winners was an incredibly challenging journey, filled with awe-inspiring artworks pouring in from every corner of the United States. We're truly touched by the incredible talent of our young Deaf and Hard-of-Hearing artists in our midst!
A heartfelt thank you to all the amazing participants for sharing your work with us. Your creativity truly shines, and we can't wait to see more from each of you. We celebrate your incredible talents!
Let's meet the remarkable winners of our 2023 Holiday Card Art Contest!
"The Light Within"
Artist: Braylin B  •  Grade 10
West Virginia School for the Deaf and Blind
In this heartwarming narrative, Braylin, a gifted Deaf artist in the 10th grade, wove a masterpiece that skillfully captures the tranquil allure of a winter evening stroll. As we admire Braylin's artwork, we can feel the warmth of a friendly snowman's company and the comforting glow of light guiding the way back home.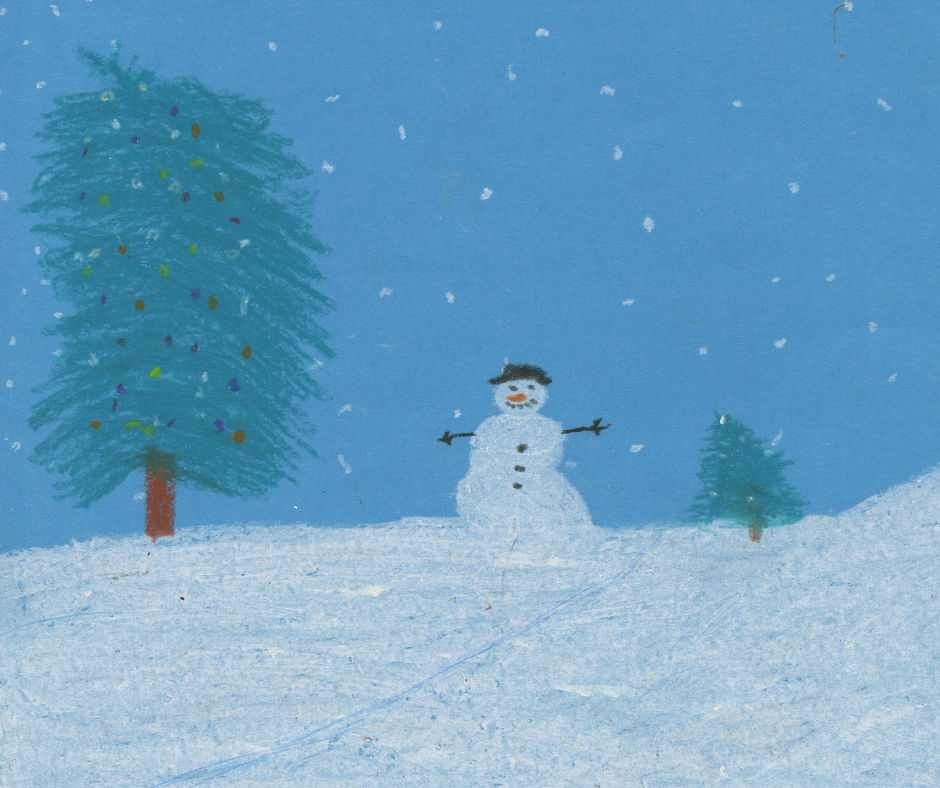 "Winter Serenity"
Artist: Joycelin O • Grade 10
Lexington School for the Deaf
Joycelin is an incredibly talented 15-year-old Deaf artist. Her creation skillfully encapsulates the serene and enchanting essence of a winter evening. Through her depiction of falling snow and the sheer delight of building snowmen, Joycelin has transported us into the heartwarming embrace of the season. Her work radiates a sense of tranquility and pure joy that makes us feel winter's magic.
Share the Winter Love!
Embrace the spirit of the season and make a difference with your holiday cards! By ordering today, you're sending warm wishes to your loved ones and extending your hand in support of ASDC's crucial mission. We're dedicated to fostering language and literacy equity and diversity for ALL children, and your contribution matters.
Whether you need 1, 10, 30, or 50 cards, we've got you covered. So, why wait? Spread the holiday cheer and #GiveASL this winter season alongside us. Your kindness and generosity will surely brighten this festive time!
Kindly be aware that purchasing single cards will lead to increased shipping expenses in contrast to purchasing in quantities of 10 or more. We strongly advise placing orders in larger quantities to benefit from lowered shipping costs per unit. This decision will result in more cost-effective shipping rates and contribute to overall savings on your purchase. We appreciate your understanding of this recommendation, your commitment to optimizing shipping costs through bulk orders, and your steadfast support of the American Society for Deaf Children.
For any inquiries or concerns, please don't hesitate to seek assistance by reaching out to Wendy at wendy@deafchildren.org.

 

Thank you.